Meet the Minersblog Team!
Our team is made up of passionate individuals who are dedicated to providing you with the latest news and insights from the world of mining. From geologists to mining engineers, our team members bring a wealth of knowledge and experience to the table.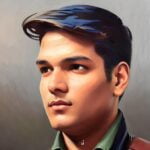 Pankaj
Founder
Pankaj is the founder and CEO of minersblog.com. I have a Btech degree in Computer Science. My background is closely linked with crypto mining and I have been running a GPU crypto mining machine for the past 4 years.

I have a lot of experience in the crypto-mining field. I have gained knowledge in crypto mining through self-testing and error correction. Since 2019, I have been actively involved in mining cryptocurrencies and have gained practical expertise in both GPU and CPU mining.

Due to my extensive experience, I can confidently solve any crypto-mining issues that may arise. With 4 years of in-depth practical experience, I am a person with real on-field experience. I can provide reliable information and guidance in the field of crypto mining.
Prakash
Editor/Author
Prakash's passion for crypto began in 2018 when he began learning about the technology and its potential to revolutionize finance. Since then, he has become a leading expert in the field, with extensive practical experience in crypto mining, trading, and investing.

With 5 years of in-depth practical expertise, Prakash has built a reputation as a trustworthy and authoritative voice in the industry. His insights and analysis are sought after by investors and enthusiasts alike, and he is frequently featured in leading finance publications.

As a former founder at sharesandstockmarkets.com and chief editor at mnmarketcap.com, Prakash has a proven track record of success in the finance industry. His writing is known for its clarity, accuracy, and insight, and he is committed to providing his audience with the most up-to-date and accurate information available.